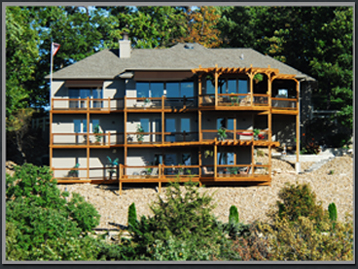 Whether it's time for an upgrade from your current environment, or you're looking to downsize later in life, Osment Enterprises can help you meet your objectives. We offer a variety of lots on or near the lake, each providing a unique setting of its own. When it comes to fulfilling your sense of style, you'll be glad to know that we have some of the best artisans on our team. From custom cabinets to residential/commercial automation, creating a personalized environment is our specialty.
When it comes to selecting the right builder, our customers say they chose us based on our reputation for quality. In fact, we're proud of our 100% referral-based clientele. Not only are we doing our best for every customer; we're doing our best for their family and friends, too.
As a member of the Better Business Bureau, Osment Enterprises remains at the top of the industry in terms of ethics, customer service, and product value. Every residential and commercial site is backed by a one-year warranty for your peace of mind. We are proud of our achievements at the Lake of the Ozarks and surrounding communities, and of our customers that come from near and far to build with Osment Enterprises.
Dedicated to delivering superior results, we invite you to meet with our team of professionals and discover the excitement of building a new home or business. With our experience and passion for construction, and commitment to the industry as a whole, no other builder delivers complete satisfaction like Osment Enterprises.
Cell: 573-216-0274
E-Mail: cary@osmentconstruction.com
Protect your investment and have a general contractor with over 25 years experience build your project.
Click here to
email me from an online form.